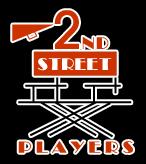 Second Street Players  /  Riverfront Theatre  /  2 South Walnut St.  /  Milford, DE 19963  /  (302) 422-0220  /  info@secondstreetplayers.com

Second Street Players present

A Children's Dessert Theatre Event

written by Vera Morris

directed by Timothy Free

Friday, February 15 at 7:00p

Saturday, February 16 at 1:00p

Sunday, February 17 at 1:00p

Bring the whole family for our special "family affordable" performance on Friday evening, FEB 15.

No set ticket price—just pay what you can!

Tickets for the Saturday & Sunday afternoon shows are

$10 and available at the door.

The Riverfront Theatre

2 South Walnut Street  /  Milford, Delaware 19963

ABOUT THE SHOW...

The 2013 Children's Dessert Theatre season opens on February 15 with Puss In Boots by Vera Morris.

This delightful re-telling of the classic tale directed by Timothy Free will charm audiences, young and old. Tom, the miller's son, is left his father's cat as an inheritance. The cat is no one's fool and promises that if Tom gets him a pair of boots he will make his fortune.

Once he has the footwear and becomes Puss In Boots, the cat sets out on an amazing adventure involving the King, the Queen and the lovely Princess Pam, who Puss thinks will make a nice wife for his master!

By the final curtain, all of the cat's plans have come to pass, and we've met a hilarious cast of characters, including an Ogre, the Ogre's giggling bride-to-be and her snobbish mother, the Ogre's servants and his comical dog, who'd like a new owner.

Don't miss the chance to share the Children's Dessert Theatre experience of Puss in Boots with your whole family!




THE CAST

Puss...
Adara Ryan


Tom...
Seth Wilcox


Jeannette...
Katya Hall
Countess...
Sara Howard


Rosiland...
Rachel Brzezicki


Gabrielle...
Missy Spangler
Dog...
Alex Dornenburg


The Great Orge...
Jayson Felker


Princess Pam...
Sarah Hayd
Pam's Handmaiden...
Emily Simon


Coachman...
Dawson Gehnke


Peasant Woman...
Susan Newark
King...
John Levine


Queen...
Maureen Levine


Royal Attendant...
Noah Gardner
Cook...
Allie Buchanan


Prisoner 1...
Nicholas Hall


Prisoner 2...
Noah Hodgson
THE PRODUCTION TEAM

Director... Timothy Free

Producer... Sharon Buchanan

Assistant Director/Production Manager... Julia Free

Assistant Production Manager... Shawn Dornenburg

Costume Designer... Sharon Buchanan

Light and Sound Designer... Timothy Free

Scenic Artist... Bill Walton