INDIVIDUAL SHOW TICKETS

All tickets for Main Stage shows are reserved seats and are priced at $17 for straight plays and $20 for musicals.  A $1.00 discount is offered to Senior Citizens (65 and over) and Students (18 and under) for Sunday matinees ONLY!

To order tickets with your credit card, call the 24/7 ticket at (800) 838-3006.

All patrons, regardless of age, must have a ticket to attend a show.  All sales are final. Exchanges may be requested up to 10 days before a performance.

Second Street Players has teamed with BrownPaperTickets.com to provide fast, safe, and convenient online ticket purchasing using your credit card.  Just click the BPT logo for available tickets:

Discounts are available for groups of 15 or more. Please email us at
info@secondstreetplayers.com
for information and rates. All reserved tickets not picked up at least five minutes before the start of the show may be resold or charged to the purchaser's credit card. Seating begins approximately 30 minutes prior to each performance. Late arriving patrons may be asked to wait until they can be seated at the House Manager's discretion.

SSP SEASON TICKET

(includes one ticket to each of the five main stage shows shown below)

Regular Season Ticket: $85 each

Senior / Student Season Sunday Ticket: $80* each

*NOTE: Discounted price is for Sunday matinees only for

Seniors (65 years and up) and Students (18 years and under).

Children's Theater tickets are $10

general admission per show and are sold separately.

Your Personal Check as well as

MasterCard, VISA, and Discover are accepted!

An additional $5 service fee will be charged for credit card payment.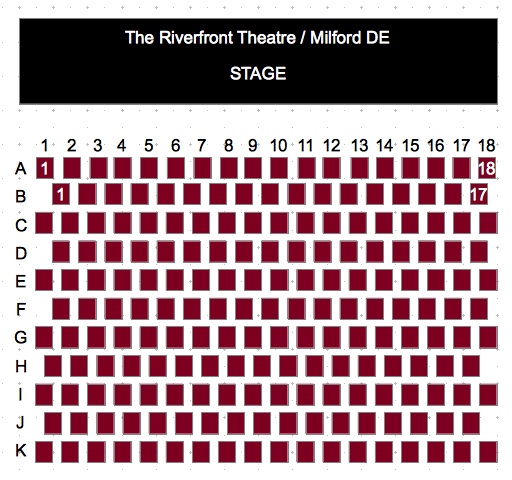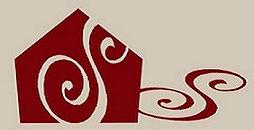 Second Street Players  /  Riverfront Theater  /  2 South Walnut St.  /  PO Box 470  /  Milford, DE 19963  /  info@secondstreetplayers.com


PRINT OUT the form below, fill it out, mail it in, and get your season tickets now!

PRINT OUT the form above, fill it out, mail it in, and get your season tickets now!

The Riverfront Theater / Milford DE

STAGE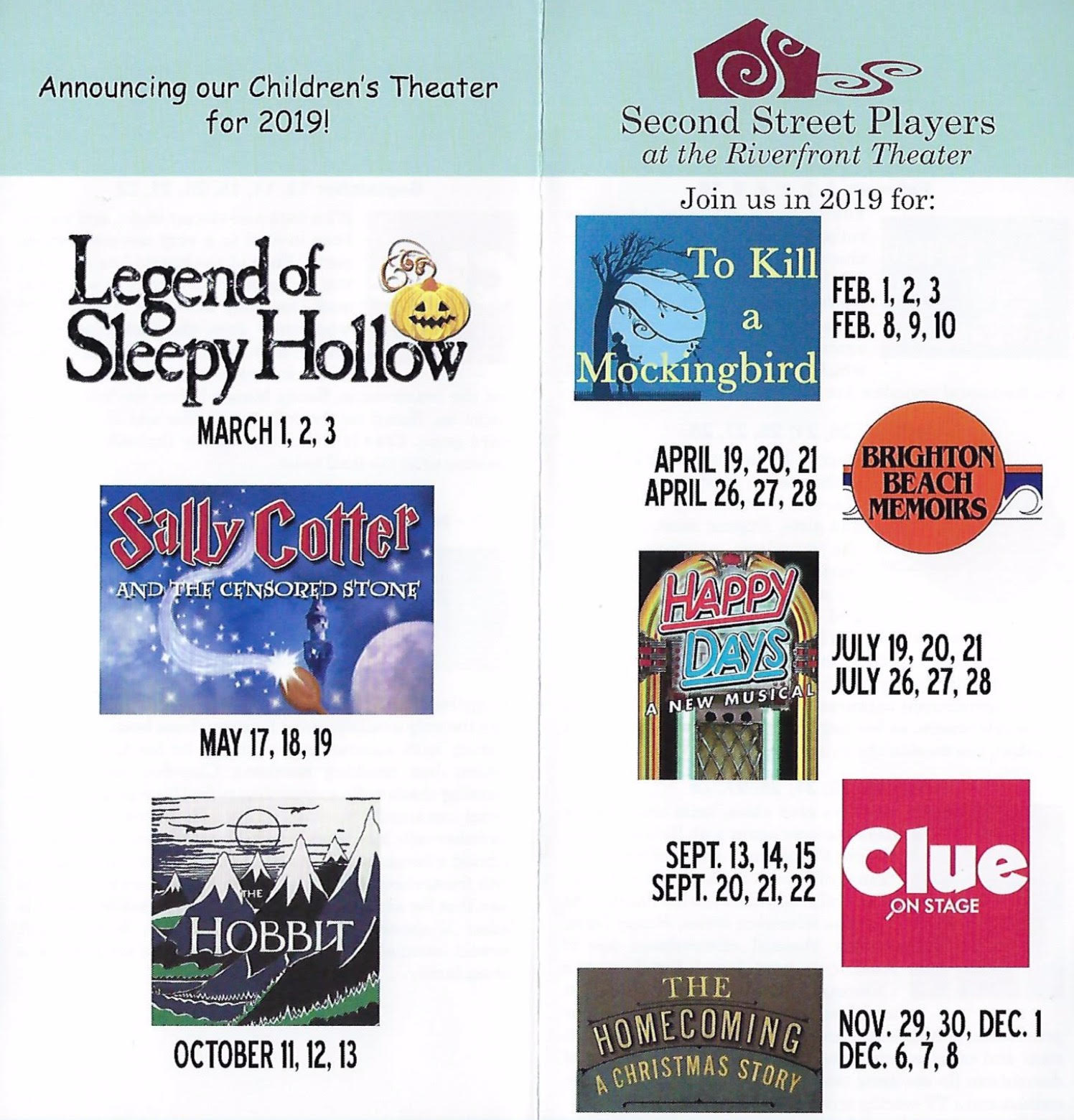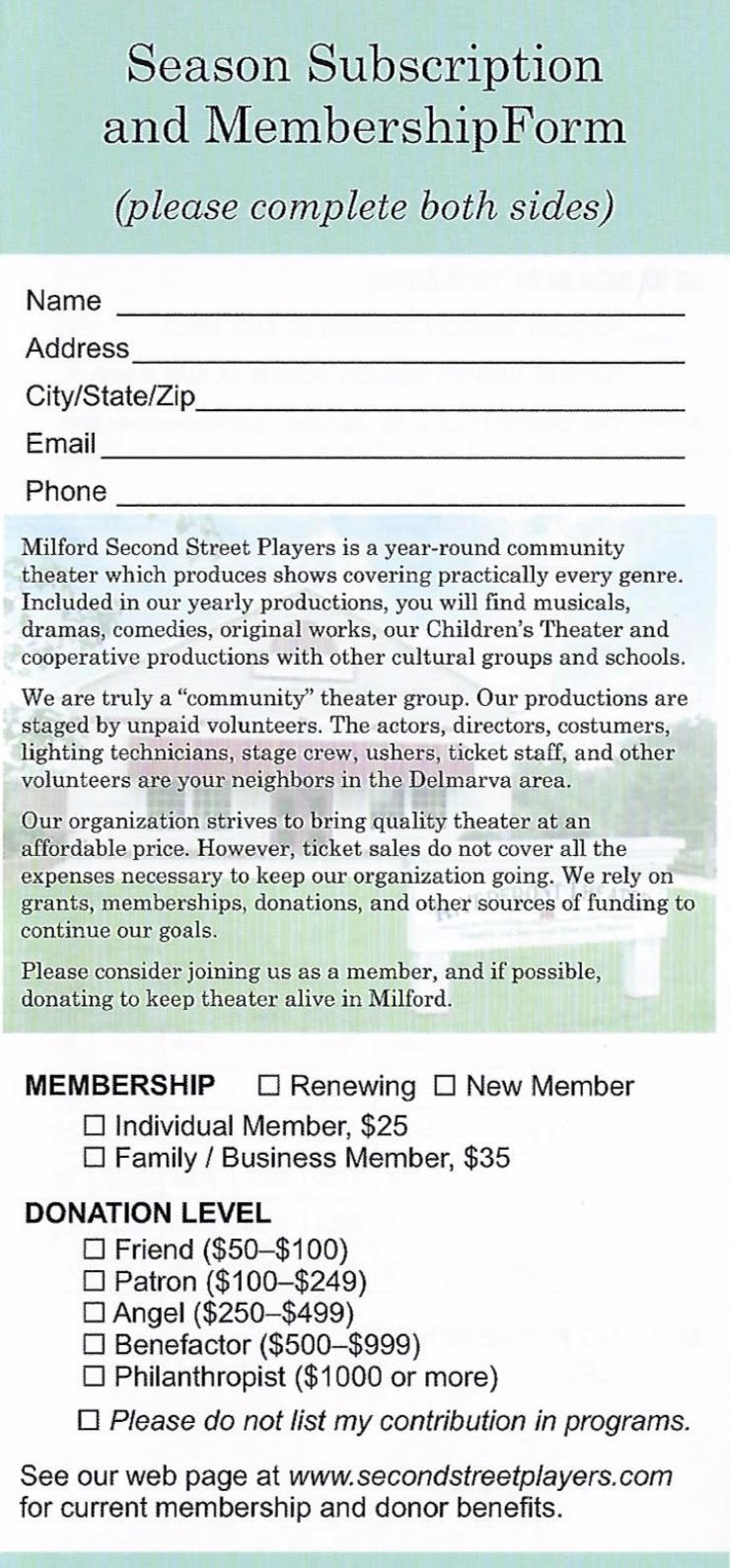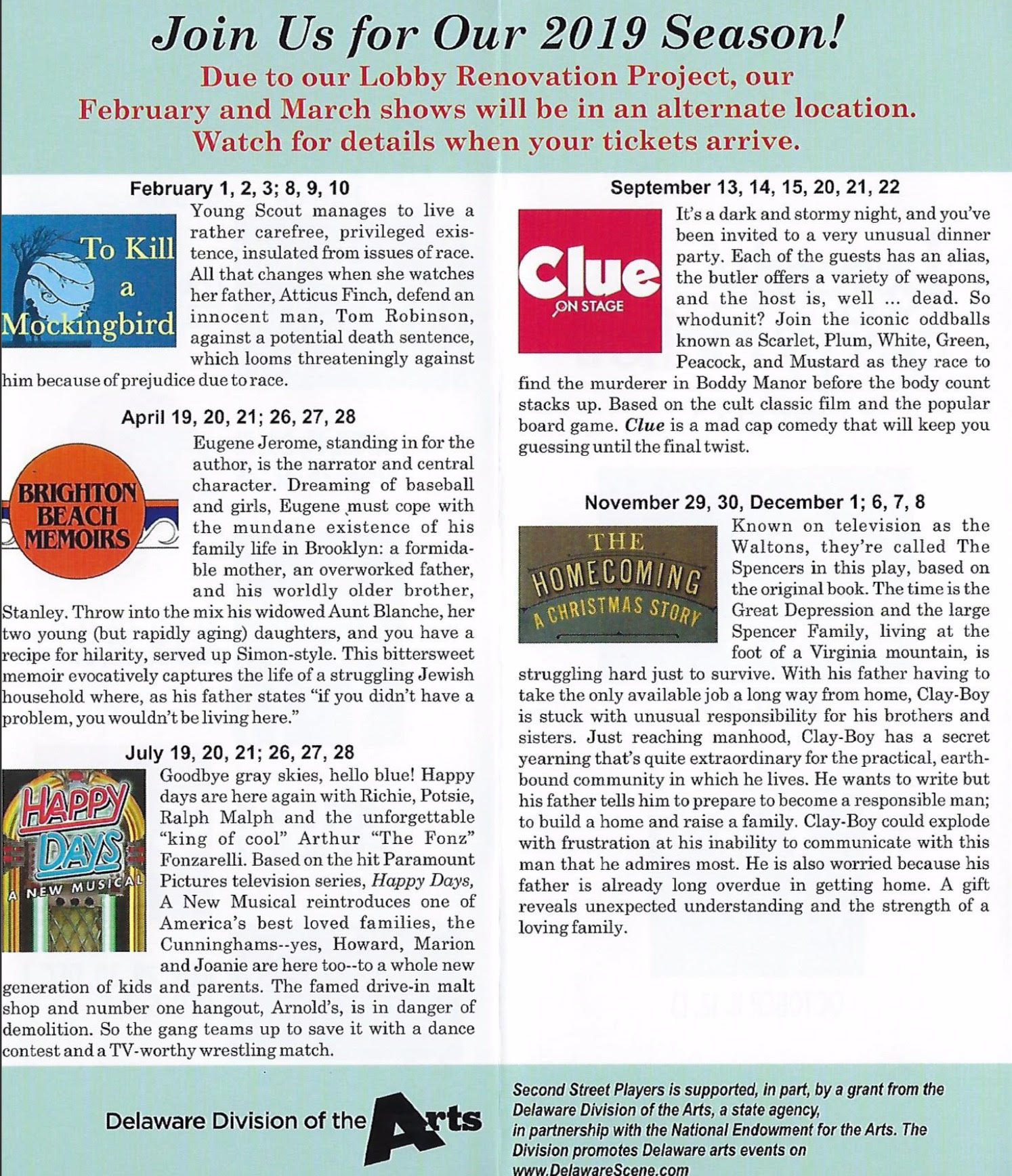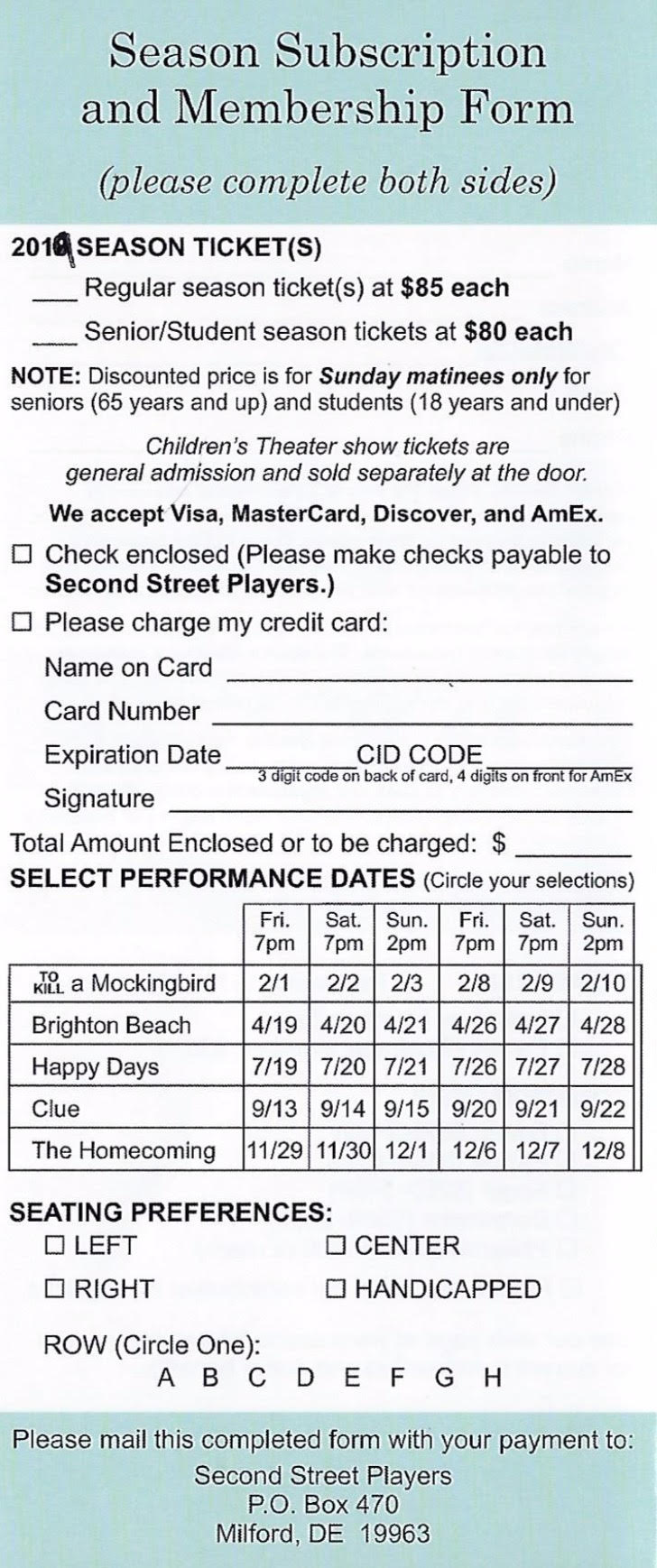 5/10    5/11    5/12    5/17    5/18   5/19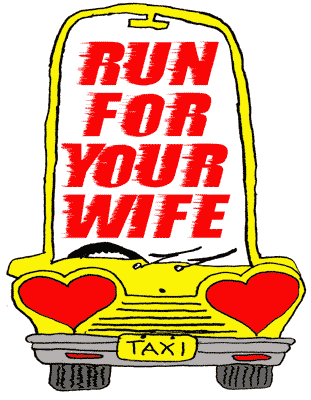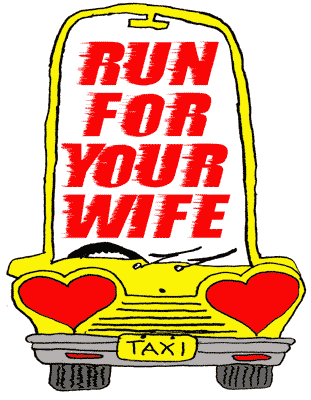 Run for Your Wife tells the story of unassuming cab driver John Smith, who has two different wives and two different homes in two different towns – and a very precise schedule for juggling it all. Things begin to unravel when Smith gets a bump on the head and lands in the hospital, where both of his addresses surface and police from both towns begin to investigate. Having upset his schedule, Smith becomes hopelessly and hilariously entangled in his attempts to explain himself to his wives.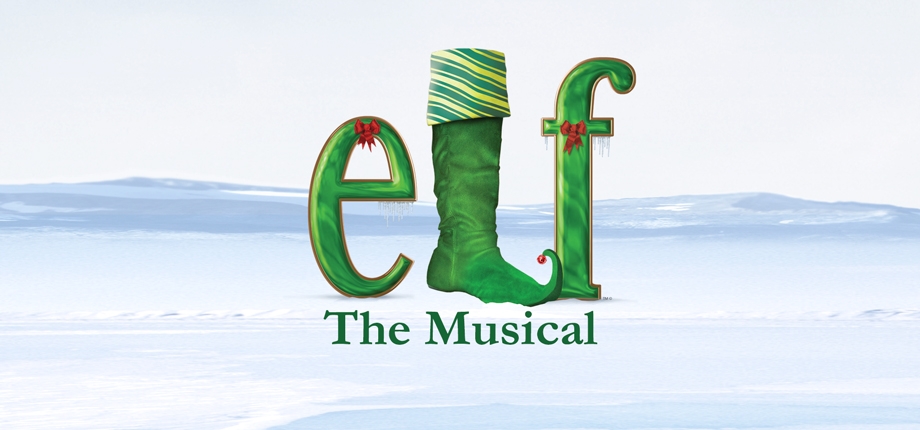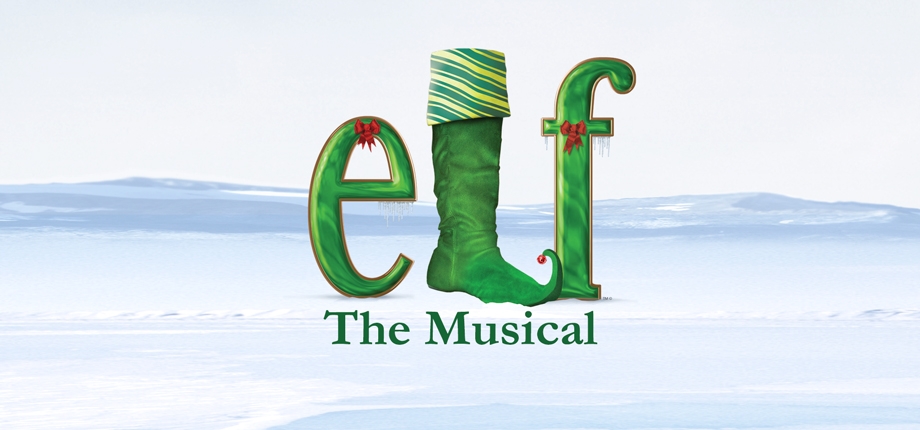 Buddy, a young orphan, mistakenly crawls into Santa's bag of gifts and is transported to the North Pole. The would-be elf is raised, unaware that he is actually a human, until his enormous size and poor toy-making abilities cause him to face the truth. With Santa's permission, Buddy embarks on a journey to New York City to find his birth father and discover his true identity. Faced with the harsh realities that his father is on the naughty list and his half-brother doesn't even believe in Santa, Buddy is determined to win over his new family and help New York remember the true meaning of Christmas.